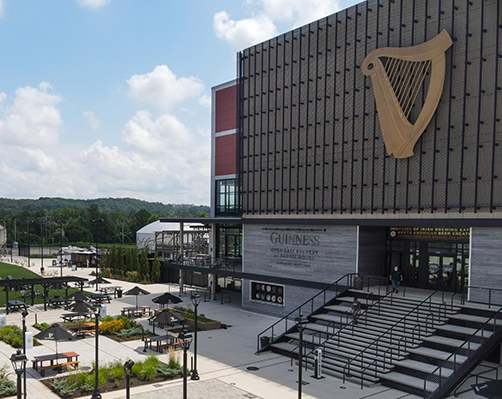 Why is the brewery named the Guinness Open Gate Brewery?
In 2015 we opened the long standing pilot brewery at St James's Gate to the public. We quite literally opened the gate to the place in which innovative brewers had been working since 1904 to explore new beers for Guinness, so we called it the Open Gate Brewery.
Our brewery in Baltimore shares the spirit of exploration and discovery of its sister brewery in Dublin, hence the name. We focus our attention on putting our spin on classic styles, introducing new ones, and utilizing both historic and new age ingredients and processes to create and exciting, ever-changing beer program.
We have a long way to go if we plan to reach the heights of our home in Dublin, but through a steadfast committment to brewing the highest quality beers in the world, we're confident our chapter in the Guinness story will be an impactful one.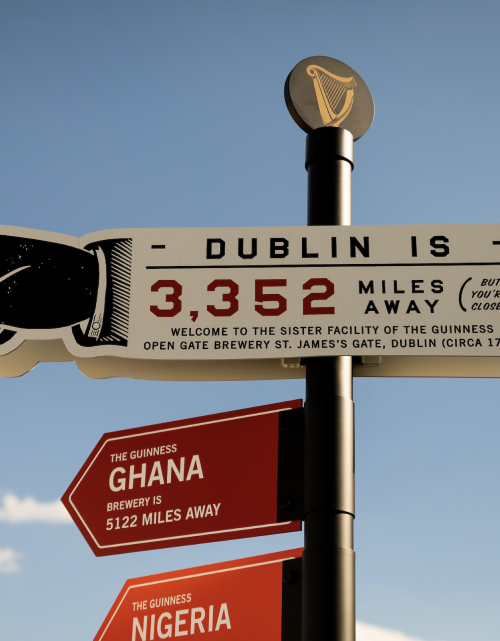 Why build a Guinness Brewery in America?
Although Arthur Guinness started brewing beer in Dublin, Ireland in 1759, brewing in other countries has long been a part of our story. We opened our first non-Irish brewery in London in 1936, and currently brew in nearly 50 countries around the world.
That being said, the USA boasts arguably the most dynamic and exciting beer industry in the world right now, and, put simply, we wanted to be closer to the action. Having a brewery in the States allows us to understand and respond to trends more quickly, as well as brew smaller batches and get them beyond the walls of the brewery faster.
And it gives us the opportunity to welcome Guinness fans, old and new, to the first ever purpose-built Guinness brewery on American soil - The Home of Guinness in America.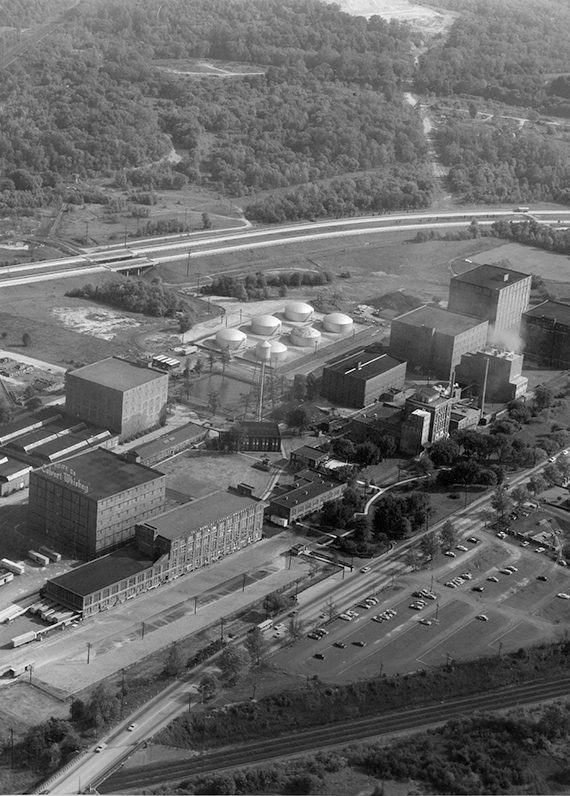 Why Maryland?
The Guinness Open Gate Brewery is on the site of the historic Calvert distillery in Baltimore County, 10 miles from downtown Baltimore and 30 miles northeast of Washington DC.
The distillery, originally called the Maryland Distilling Company, was the first opened after Prohibition ended 1933. For decades it distilled, barrel-aged and bottled several spirits brands, notably the Lord Calvert Whisky brand. In 2001 the site was acquired by Diageo as part of the purchase of Seagram, and spirits aging and bottling continued at scale until 2015.
The site itself is almost 62 acres in size and is ideally situated near many important transport link, including I-95, BWI Airport, and the Port of Baltimore. It has a long and integral local history, being just off the Civil War trail - there's even a protected pre-Civil War graveyard on its grounds.
Geographically, we couldn't be in a better location, with several large cities within driving distance, including Baltimore, Washington, D.C., Philadelphia, and New York City.
But most importantly, we love the area. Baltimore is an amazing city filled with amazing culture, food, art, music, and most of all, people. The brewing industry in Maryland is growing fast with several notable breweries making a name for themselves locally and nationally. We've been working since our first day in town to help the industry prosper and achieve the recognition we think it deserves. We also believe there is huge potential for increased tourism in the area. We look forward to working in concert with local partners to bring about a significant impact from increased visitors who will be able not just to experience what we hope is a best-in-class brewery visit, but everything else Maryland has to offer.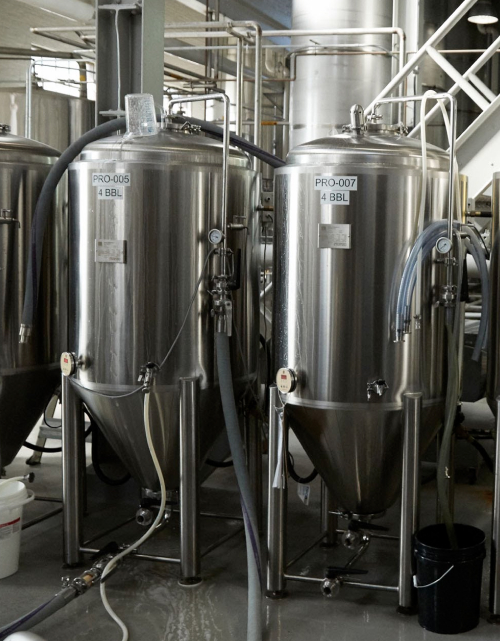 What brewing systems do you have? What's brewed there?
We have two brewhouses on site - the first is a 10-Barrel (bbl) brewhouse built by DME Brewing Solutions, which serves as our experimental or "pilot" system. This is the brewhouse that our visitors can see up close and personal on our tours. The second system is a custom-designed 100 hectoliter brewhouse built by GEA. This sytem is substantially larger and is where we brew any beers that make their way out to your local pubs and shops.
Our site also gives us the ability to barrel-age and package on both a small and large scale. We wim to always have a few exciting, brewery-only beers available to take home when you visit, while simultaneously focusing on bringing beers like our flagship Baltimore Blonde and core beers like El Dorado Amber Ale and Belgian Style Wit to commnities around the country.
'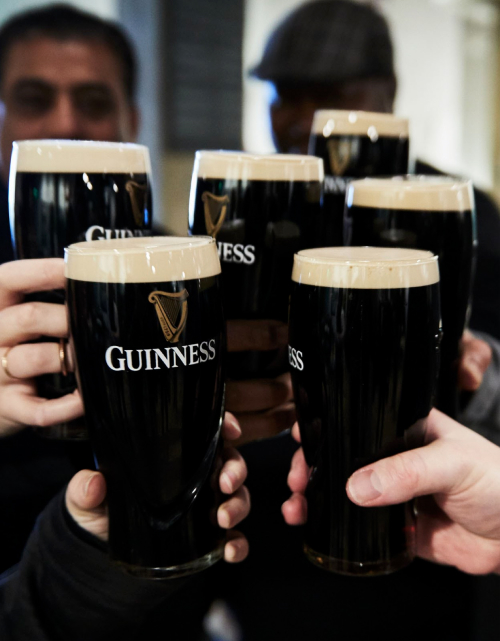 Will there still be beers imported from Ireland? What about Guinness draught stout?
Don't worry! While our Iconic stouts like Guinness Draught Stout, Guinness Extra Stout, and Guinness Foreign Extra Stout will continue to be brewed in Ireland, we'll always be ready to serve them to you in Baltimore. In fact, we think you'd be hard-pressed to find a better perfectly poured pint of Guinness Draught anywhere outside of our walls!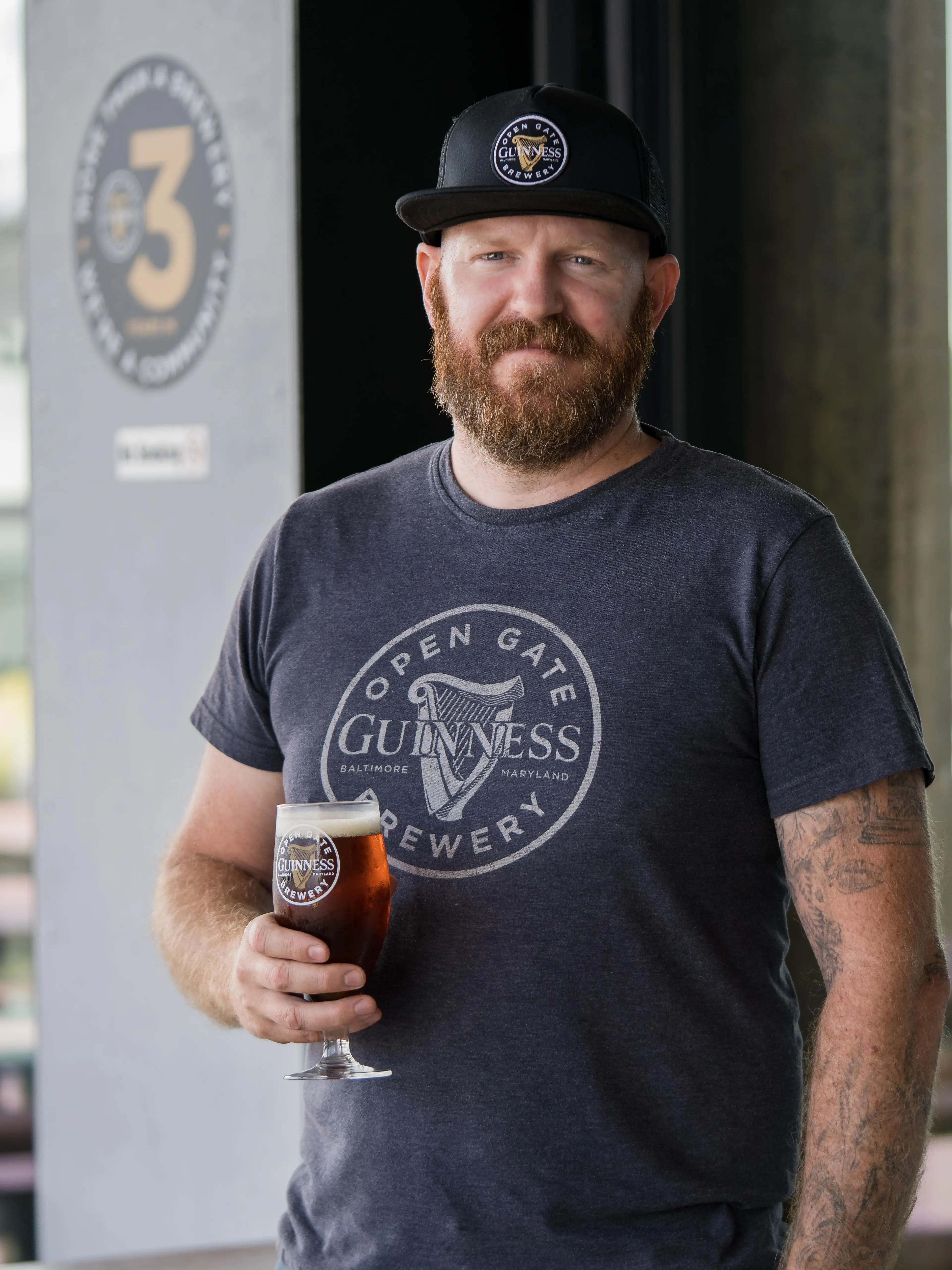 Our Team
Our brewing team is comprised of some of the most talented and experienced brewers in the world. Led by our Brewmaster, Peter Wiens, Head Brewer, Sean Brennan, and Senior Brewer, Juan Moreno, the team works each day to bring the spirit and heritage of Guinness to life, while also crafting their own chapter in the two and a half century story of our brand. When you come for a visit, there's a good chance you'll see a member of the team hanging in the tap room and sharing a beer - dont be afraid to say hello and ask them about the next innovative beer coming soon to our taps.